"Into the Underground"
(from The Etruscan Song of Circular Time)
The Etruscan story begins with a Bronze Age pact with the gods for power over fire and all the elements. The price to pay was that the Etruscans must raise and educate their own executioners, the Latin Romans, and that such powers could not be used for any self-gain, nor self defense.
The turning point occurs 500 years later, in 283 BC at Lake Vadimo, just below Orte; the Etruscans, at their wits ends after an uninterrupted string of defeats by the Romans, resort to breaking their pact by shooting firebrands at the enemy. What came out of it was a nuclear holocaust which carbonized the entire Etruscan army and part of the Roman one. But the Etruscan women had not followed the men on their agonizing pact with the gods. The heroine Ortezzina had led them into the underground of Orte and on that night the Roman legionaries heard their song of circular time. Even today, you can hear Ortezzina's echo, in the hypogea and underground.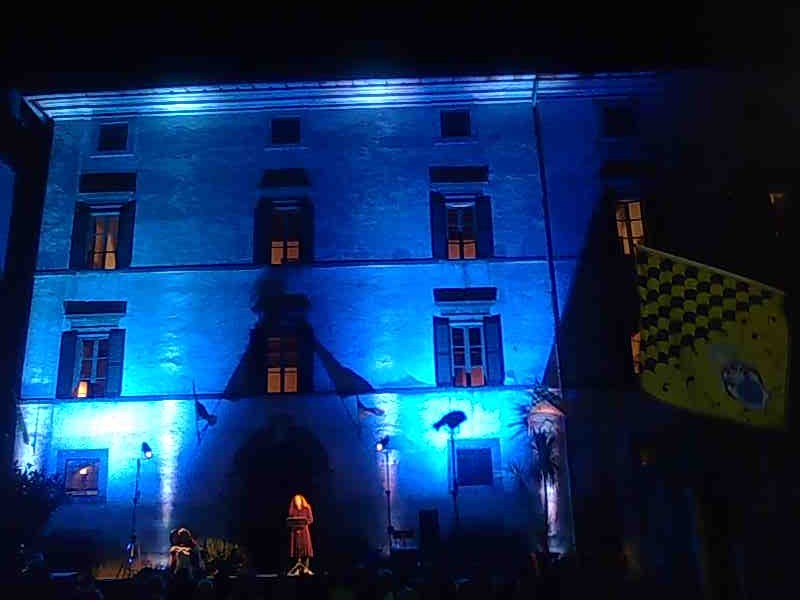 A noble Palazzo for your events
Orte has been described as the navel of Italy and one of the key points around which revolves the Etruscan story, when their song went underground. As such the underground city of Orte is as significant as the surface level. All is veiled in mystery and imagination. Exploring the medieval town, you cannot miss, in the center, the noble Piazza Senatore Angelo Giuseppe Manni and its historic church of St. Francis. Facing the church is the impressive Palazzo Manni is at your disposal for all kind of indoors and outdoor events, parties or ceremonies.
events & weddings
With great reception rooms on two floors and in its gardens, it is a special setting for your gatherings and celebrations.
ENOTECA DELL'ORTEZZINA
A cultural centre that offers great wine and food, shop, visits and tours.
location
Piazza Senatore Angelo Giuseppe Manni, Orte, Italy
Local Experiences
Orte UNDERGROUND
Travel back in time and learn about the urban underground monument. For more information please clic here